Boat Tours in Clearwater Beach
Are you looking for a new adventure for you and your family? Go on a boat tour in Clearwater Beach, FL!
Clearwater Beach maintains its reputation as a near-perfect Floridian beach. You'll find the peace and pleasure you've been dreaming of right here. This piece of paradise is accessible to everyone, children and adults included. This is why booking boat tours in Clearwater Beach is a must during your vacation in the Sunshine State.
Clearwater Beach's beautiful white sand and sparkling tropical waters will put a smile on everyone's face. It's the perfect spot for romantic and exciting getaways. Along the coast are fine restaurants, family-friendly accommodation, and establishments offering a variety of water activities. Experience the best of the best that Florida has to offer at Clearwater Beach.  
Need a little more excitement? Bay Excursions provides the best boat tours in Clearwater Beach, Florida, for the whole family.
If you have any inquiries or questions, give us a call at (727) 595-000. If you'd prefer to send an email, you can reach us at [email protected]. We are looking forward to helping you create wonderful memories at Clearwater Beach, FL!
Hop on to an Unforgettable Adventure
Clearwater Beach is among the municipalities in the Sunshine State that conducts regular beach grooming, making it one of the cleanest and most beautiful attractions in Florida. It also has lifeguards on duty every single day, so it's family-friendly and a safe place to engage in water activities.
Here are some of the things you'll experience at Clearwater Beach when you go on a tour with Bay Excursions:
Our Clearwater Beach boat tours involve exploring close-by islands. Some of the ones you'll get to visit are Three Rooker Island, Honeymoon Island, Fort De Soto Park, and Caladesi Island.
You'll also get to witness the beauty and charm of a variety of beaches, including Madeira Beach, St. Pete Beach, and Indian Rocks Beach. If you want, you can also cruise the waters of Boca Ciega Bay, John's Pass, and the Gulf of Mexico.
Indulge in great food and beverages.
When you opt for our boat tours, you can ask our captains to bring you to the best local restaurants, eateries, and pubs along the shores of Florida's beaches.
If you want to try cuisines other than American, you have lots of options here. There are also food and beverages that cater for various cravings and preferences, including pescatarians, vegetarians, vegans, and meat-lovers.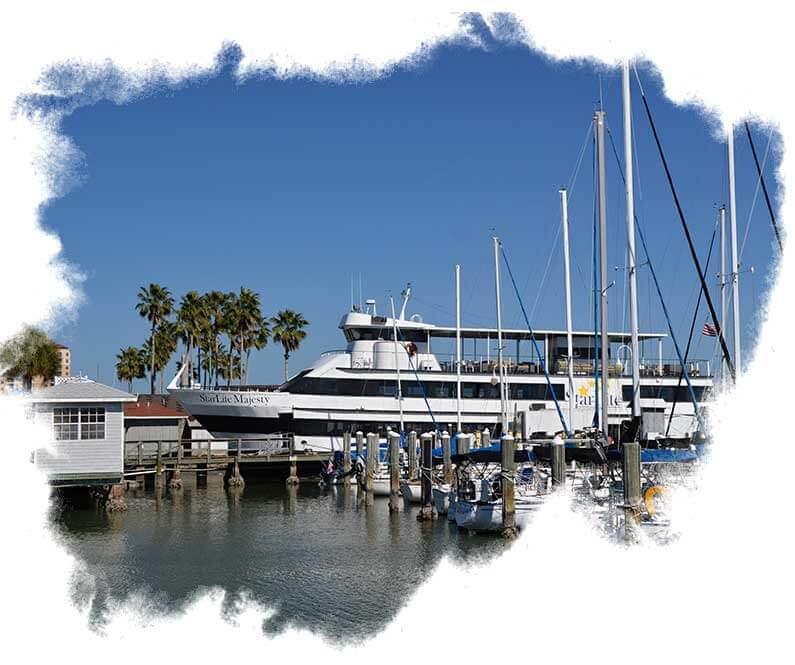 Witness diverse wildlife.
One of the best things you'll experience during our Clearwater Beach boat tours is witnessing a variety of animal species as they exist in their natural habitat. Even if you're not an animal lover, you will surely be fascinated by the rich wildlife of Florida.
The beaches of tropical Florida boast a wide diversity of bird life including, herons, gulls, egrets, dowitchers, terns, sanderlings, and willets. They can often be found in the Mangroves feeding on fish and tiny saltwater invertebrates.
In the waters, you'll likely see diverse species of fish, both small and big. These include gag groupers, redfishes, snooks, mangrove snappers, red drums, king mackerels, tarpons, and puffer fish.
Some fishermen also say that at times there are also humpback whales and a variety of shark species that find their way to the waters of Clearwater Beach. Other marine creatures you might see can include seahorses, mussels, snails, southern stingrays, horseshoe crabs, and cownose rays.
During our Clearwater Beach boat tours, dolphin sightings are common. Our captains know the best spots where you can find them swimming, jumping, and playing. During certain seasons, manatees can also be encountered.
If you're looking for souvenirs or gifts, Florida is packed with many interesting shops. There are lots of shopping options at Clearwater Beach, and you can ask your boat captain to take you to the best local shops in the neighboring islands.
One of your best options during our boat tours in Clearwater Beach is John's Pass Village & Boardwalk. It has more than a hundred shops where you can purchase unique items. From high-quality clothes to handcrafted products, you'll find a myriad of collectible items there.
Why Choose Bay Excursions' Clearwater Beach Boat Tours
Here are some of the benefits you can get by hiring us and our boats:
With breathtaking sights, the scenery you'll see at Clearwater Beach is all Instagram-worthy. Several small islands are scattered around the area, each one of them home to an abundance of lush vegetation, exotic wildlife, and pristine coastlines.
You can also bathe in the sun or travel under the sea. Our trained and experienced captains will be your guide in exploring Clearwater Beach.
When aboard our exceptional boat tours, you get a newfound appreciation for the beauty that covers Florida's stunning shores. From sunrise to sunset, birds to fish, and blue waters to unblemished islands, you can get up close and personal with the majesty of an aquatic wonderland.
There is nothing more special than spending the day watching nature's beauty unfold before your eyes. An experience like this is unforgettable. Whether you are looking for adventure or peaceful relaxation, a boat tour in Clearwater Beach, FL, is perfect for you.
Our boat tours in Clearwater Beach, Florida, are designed for kids, teenagers, adults, and even the elderly. You can play games, go sightseeing or dolphin-watching. How can you resist a wonderful tropical trip that caters to everyone?
Do you wish you could do something besides sitting idly on the beach sand? Now's your chance! Our boat tours provide one of the most unique adventures in Florida.
Highlighting the best features of each island location, we'll be glad to provide you with a list of fun facts and insider knowledge to make your vacation all the more extraordinary.
Our bowrider boats have complete amenities, including a porta-potty, Bluetooth stereo, Bimini top, chart plotter, depth finder, and a large ice cooler for food and drinks. All of these are accessible for the entire duration of your boat tour in Clearwater Beach at no additional cost.
Our bowrider boats are also well-designed and regularly maintained, making them safe to use when cruising across calm or rough waters. For a more exciting and fun adventure, you can use our boats to explore the Gulf of Mexico.
We always observe weather and water current changes to ensure our clients' safety. If we think it's not safe to go on a cruise or a tour, we'll reschedule this to a time and date of your preference and convenience.
Our bowrider boats are also equipped with safety gear such as real-time GPS trackers and safety vests. They serve as assurance that you're safe when you go out on the open waters with us.
Our Boat Tours in Clearwater Beach, FL
With our boat tours, you'll have the highlight of your trip in the Sunshine State. Our 24-foot bowrider boats are spacious and can carry a maximum of six people, so feel free to bring along friends, loved ones, and relatives with you.
The rates for our boat tours in Clearwater Beach, FL, are as follows:
Contact Bay Excursions Today
When you opt for our boat tours in Clearwater Beach, FL, you'll be visiting beautiful tropical islands, viewing exotic wildlife, and enjoying the sparkling tropical waters that have made Florida famous.  
Bay Excursions promises to cater for your every need and maximize your comfort from the moment you step onto our boat up to the time you head back to shore. You won't regret chartering our boats. Call us today for inquiries regarding our Clearwater Beach boat tours!